Peace Arch News
August 14, 2014
By Sarah Massah
An 18-year-old business management student is already ahead of the pack with a viable White Rock business that is making waves.
Alex Dobbie was having difficulty searching for summer jobs back at home in White Rock while away at school in Ontario.
The Western University student – and Southridge School alumnus – decided to take matters into his own hands by starting up a business doing what he loves: skimboarding.
"I started skimboarding three years ago with my friends," he said. "When my friends and I started getting really good at skimboarding, people would watch us on the beach and kids would ask how we did it."
With that interest in mind, the business management and organizational studies student began creating a buzz all the way back in February, starting with a Facebook page then moving on to a website for his White Rock Skimboarding business.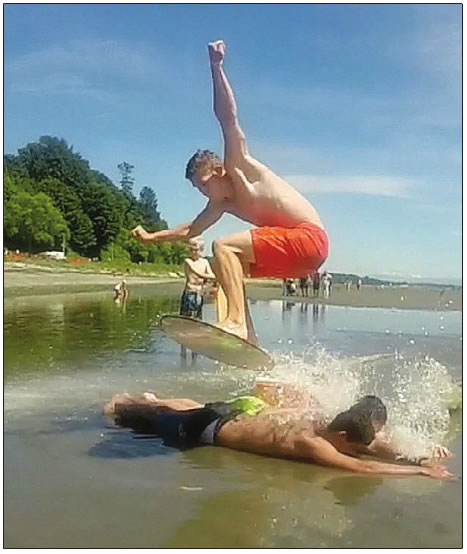 With the help of City of White Rock staff, including Eric Stepura and John Stech, as well as help from Tourism White Rock, Dobbie applied and received the proper business licenses, permits and insurance in order to bring his idea to fruition.
"The support from White Rock has been super helpful. Even local businesses have helped me promote the camps. I'm really happy everyone has been so supportive," he said.
Now, months later, nearly every one of Dobbie's classes have filled up, with few remaining spots left in the last two camps.
"I didn't expect this reaction," he said. "I would have been happy if two or three kids came to camp. The response has been great. I love doing it and I love giving back to the community.
"I'm happy to have another great beach activity down there."
Dobbie – with help from Creative Insignia – has also designed and sold T-shirts as part of his business.
The money that Dobbie makes from White Rock Skimboarding will be used for basic living expenses when he returns to Ontario in the school year.
"I'm living by myself in Ontario, so it's just for grocery and living expenses," he said.
"It's been a fun way to get money in my pocket."
With such a overwhelming response – including people signing up from as far away as Mission and Langley – Dobbie is not sure what he will do next with his burgeoning company, but the first taste of business management has been a sweet one.
"It's been a huge learning experience," he said. "I've learned that you can't just start a business and expect it to work. People don't just get lucky.
"There's a lot of work going on behind the scenes."
For more, visit www.whiterockskimboarding.com